Arizona Daily Sun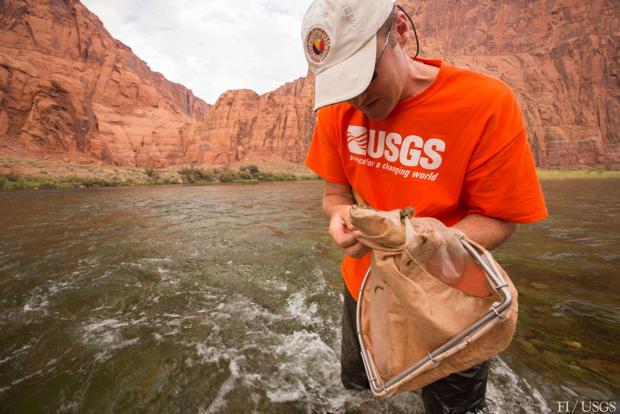 It was almost three years ago that mercury levels in fish in Lake Powell spurred state regulators to issue a fish consumption advisory for striped bass.
Now, new research shows that mercury, as well as selenium, aren't staying put in Lake Powell, but are slipping past Glen Canyon Dam and ending up in everything from algae to bugs and fish downstream.
The U.S. Geological Survey study found that concentrations of mercury and selenium in Colorado River food webs of the Grand Canyon regularly exceeded risk thresholds for fish, wildlife and even humans.
Despite being one of the most remote ecosystems in the country, the river as it flows through the Grand Canyon isn't immune to exposure from toxic chemicals like mercury, the U.S. Geological Survey said in a release about a new study. Exposure to high levels of both elements has been linked to decreased reproductive success, growth and survival of aquatic and terrestrial species in the ecosystem, according to the USGS.
Likely sources include naturally occurring selenium deposits as well as air pollution containing mercury generated as much as half-a-globe away.
BIG TROUT NOT AS AFFECTED
Based on data collected at six sites along nearly 250 miles of river downstream from Glen Canyon Dam, the researchers found that the mercury and selenium concentrations in minnows, invertebrates and fish exceeded dietary toxicity thresholds set for fish and fish-eating wildlife. It also found that the mean mercury concentrations in many of the fish studied exceeded the risk threshold for humans.
The one piece of good news is that the mercury levels found in rainbow trout, most commonly eaten by anglers, were still below the threshold set by the Environmental Protection Agency that would trigger advisories for human consumption, according to a USGS summary of the study.
"Every fish we looked at from Glen Canyon was way below any risk threshold and the fish we looked at downstream were way below that threshold as well, so it doesn't appear to be any risk to humans through consumption of trout," said Ted Kennedy, a USGS researcher at the Grand Canyon Monitoring and Research Center in Flagstaff, who was a co-author on the study.
There are no consumption advisories in place for any of the fish harvested from the study area.
The study was the first of its kind that looked at the extent and magnitude of contaminants in the Grand Canyon, Kennedy said. The study focused on trout, because they are most likely to be consumed by humans, but it also looked at five other species of fish including the threatened speckled dace, common carp and flannelmouth sucker, a species of special concern under the state of Arizona.
The study makes clear that more research needs to be done, especially related to potential risks to humans who consume fish from Grand Canyon or Glen Canyon National Recreation Area, according to the paper.
SURPRISING FINDINGS
It also produced some surprising findings, Kennedy said.
One was the fact that the tissues of bigger rainbow trout didn't exhibit greater, or even the same, mercury levels as smaller trout, defying the process of biomagnification, where chemical concentrations increase higher up the food chain, Kennedy said. The explanation lies in the unique dynamic of the Grand Canyon ecosystem, Kennedy said.
Insect food sources for fish are quite limited in the Colorado River below Glen Canyon Dam, most likely due to temperature and flow regimes of the regulated river, Kennedy explained. While smaller fish can satisfy their caloric needs by eating just insects, there aren't enough of the invertebrates to make up the entire diet of larger fish, forcing them to feed on other less calorie-dense organic matter like algae, Kennedy said.
The catch is that blackflies, a key food source for trout, are also a prime source of mercury contamination because they eat a type of algae that carries high amounts of a bioavailable form of mercury.
"We think (the mercury) is getting picked up by that algae in Lake Powell and exported into Grand Canyon," Kennedy said.
Another interesting part of the study was that the researchers didn't observe any developmental side effects like deformities that are normally associated with mercury, which is a neurotoxin.
That finding is evidence of a well-documented relationship between selenium and mercury whereby, in the right concentrations, selenium protects animals from mercury toxicity, Kennedy said.
"If both of these things are at high levels together, it can mitigate effects of having just one of them in a high concentration," he explained.
Tracing mercury sources
Kennedy also recognized that the U.S. Geological Survey's food web study opens up the need for additional research into exposure pathways in order to figure out where exactly the mercury and selenium ending up in the Grand Canyon are coming from.
While selenium concentrations come from irrigation of selenium-rich soils in the upper Colorado River basin, most mercury found in the Grand Canyon ecosystem is deposited from the atmosphere, the USGS paper said. That means it is harder to trace to a specific source, though.
Artisanal and small-scale gold mining and then coal combustion are the two largest anthropogenic sources of mercury emissions, according to the EPA. Environmental groups have pointed to the Navajo Generating Station and other coal-fired power plants around Lake Powell as prime culprits for mercury deposition on the lake.
The USGS study does acknowledge the power plant, which emits 420 pounds of mercury per year, according to the National Parks Conservation Association, as one potential source, but it emphasizes that's certainly not the only likely offender.
"Navajo Generating Station is a potential source, but there's a lot of atmospheric mercury out there even before you consider Navajo," Kennedy said.
Linking mercury contamination in Lake Powell, or in the Colorado River Basin, to specific sources is difficult because it remains in the atmosphere for up to six months after it is initially emitted, said David Gay, coordinator of the National Atmospheric Deposition Program. That's long enough for mercury emitted in one place to waft up into the atmosphere and then get carried hundreds or thousands of miles, Gay said.
University of Nevada-Reno researcher Mae Gustin has studied the sources of mercury that ended up in California and Nevada and came to findings similar to Gay. Several of Gustin's research papers found that atmospheric mercury sources were lofted pollution from California's major cities or air that traveled from as far away as Asia, which is the biggest source of mercury globally.
"Mercury is a global pollutant," Gay said. "Everybody is in it together."
Emery Cowan can be reached at 
(928) 556-2250 or ecowan@azdailysun.com