Utah, New Mexico, Colorado AGs consider legal action over contamination. Toxic mine waste water still flows out from broken tailings pond at old goldmine in Southern Colorado, contaminates 3 main rivers in the southwestern USA  ‪#‎AnimasRiver‬ ‪#‎Colorado
12PM: Colorado health official: No river health risk
 SALT LAKE CITY — Utah Attorney General Sean Reyes will meet with his Colorado and New Mexico counterparts Wednesday to talk about the legal, health and environmental implications of the Colorado mine spill.
The three attorneys general will hold a news conference after the meeting in Durango, Colorado.

Reyes had an "urgent" conference call with New Mexico Attorney General Hector Balderas on Monday and talked on the phone with Colorado Attorney General Cynthia Coffman on Tuesday, according to Reyes spokeswoman Camille Anderson.

"We hope to work with our sister states to ensure our citizens are protected and whatever remediation is necessary occurs as quickly as possible," Reyes said in a statement. "We will continue to evaluate the legal issues as we receive data and monitor the effects on our communities."

Reyes called it a "serious issue" that would require a lot of coordination with the governor's office, state and federal agencies, counties, cities and others before any final decisions are made about legal action.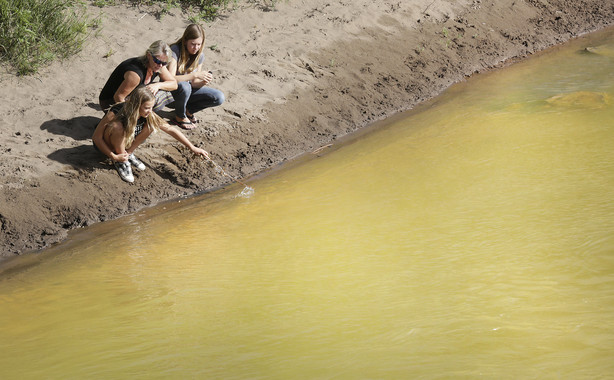 The Navajo Nation has already said it intends to sue the U.S. Environmental Protection Agency over the 3 million gallons of water laced with arsenic, lead and other heavy metals that poured into the Animas River last week. An EPA cleanup crew accidentally unleashed the spill with a backhoe at the abandoned Gold King Mine near Silverton, Colorado.
State officials said while there might not be any immediate impacts from the wastewater, they're concerned about the long-term effects, including on fish in the San Juan River and Lake Powell.
Meantime, the yellow sludge had dissipated to the point that it wasn't visible Tuesday in the muddy San Juan River or Lake Powell in southern Utah, according to state water managers.
Also, acidity readings in water samples taken from the river were holding steady in normally expected ranges, said Donna Spangler, Utah Department of Environmental Quality spokeswoman.
"We're going to assume that maybe it's in there mixed around, but we really don't have any evidence to say conclusively that it's entered Utah," Spangler said.
If the contaminated plume has arrived in Utah as predicted, the pH readings suggest that natural processes in the river have neutralized the plume's acidity, according to Utah Division of Water Quality.
The state will continue to test the water, using samples taken the past few days as a baseline for comparison.
"The sediment will get mixed up. We don't know what's going to show up a few years from now," Spangler said. "It's going to have to take some ongoing monitoring."
The Utah Division of Wildlife Resources captured fish Tuesday where the San Juan River runs into Lake Powell to test them for metal levels before the plume arrives at the lake. The division also took water and soil samples from streambeds.
Aquatic managers are hoping to catch as many as 60 each of striped bass, smallmouth bass, largemouth bass, catfish or any other sport fish an angler might encounter, said Drew Cushing, DWR sport fish coordinator. The division already routinely checks mercury levels in fish at Lake Powell.
Richard Hepworth, DWR aquatics manager in southern Utah, spent the day on the river and the lake collecting samples.
"There's just a lot of unknown out there with what happened," he said.
---
This just because we wanted to have a real good baseline of what things looked like before this potential hazardous made its way down to Lake Powell.
–Drew Cushing, Wildlife Resources sport fish coordinator
---
Hepworth said the "scary" thing from his standpoint is everyone upstream saying the contamination would flush through.
"And they're right," he said. "But it's all going to hit Lake Powell and then it's not going to go anywhere else."
He estimated it would be at least two to three years before aquatics managers know if any of the chemicals get into the fish. If that were to happen, the state would issue a consumption advisory, which Hepworth said would take away fishing as management tool.
"If people can't eat them, they're not going to harvest them," he said.
National Park Service officials said contaminated wastewater has not reached Lake Powell or the San Juan River within Glen Canyon.
"We have not received information from the EPA indicating that we need to modify our operations due to health concerns related to the quality of water heading toward our park," Superintendent Todd Brindle said in a statement Tuesday.
There are currently no closures in effect on Lake Powell. Last week, the National Park Service advised people to avoid the San Juan River arm of the lake.
Sen. Orrin Hatch, R-Utah, issued a statement Tuesday saying he's "highly concerned" about the spill's effects on the water that agriculture, industry, recreation and municipalities depend on.
"Going forward, I will do everything in my power to ensure that the EPA cleans up this mess and ensures that mistakes such as this don't happen again," Hatch said.
Photos
Related Stories
Dennis Romboy